Developmental Stimulation - DVD Series
"MAKING SENSE OF MY WORLD" DVD SERIES: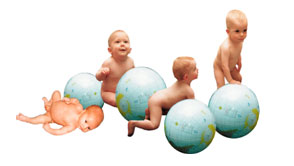 "Making Sense of My World" is a series of 4 modules that takes you through your baby's crucial, first year of life. This Dvd series empowers you, the caregiver, to interact with your baby in a loving manner, while enhancing and encouraging his or her development. Kate Bailey is an experienced Occupational Therapist with a MSc OT degree and 3 of her own children. Together with her youngest, Ross, she demonstrates a variety of fun, practical activity ideas that will encourage your baby to practice newly emerging skills of vision, language, touch, movement and motor development.

Each module is approximately 1 hour in length, and provides rich and varied experiences for each stage of your baby's life: 0-3 months; 3-6 months; 6-9 months and 9-12 months. As well as activity and play ideas, you are guided through the emerging skills your baby will be developing at each stage, so that you can provide the right play activity at the right time. Special time with your baby while bathing, feeding, and dressing is enhanced by the use of appropriate interaction and play ideas to stimulate your baby to reach his or her full potential. This Dvd series is endorsed by Johnson and Johnson.
CONTACT: Kate Bailey
0826572541